Supreme SS23 Week 1 Droplist & Keywords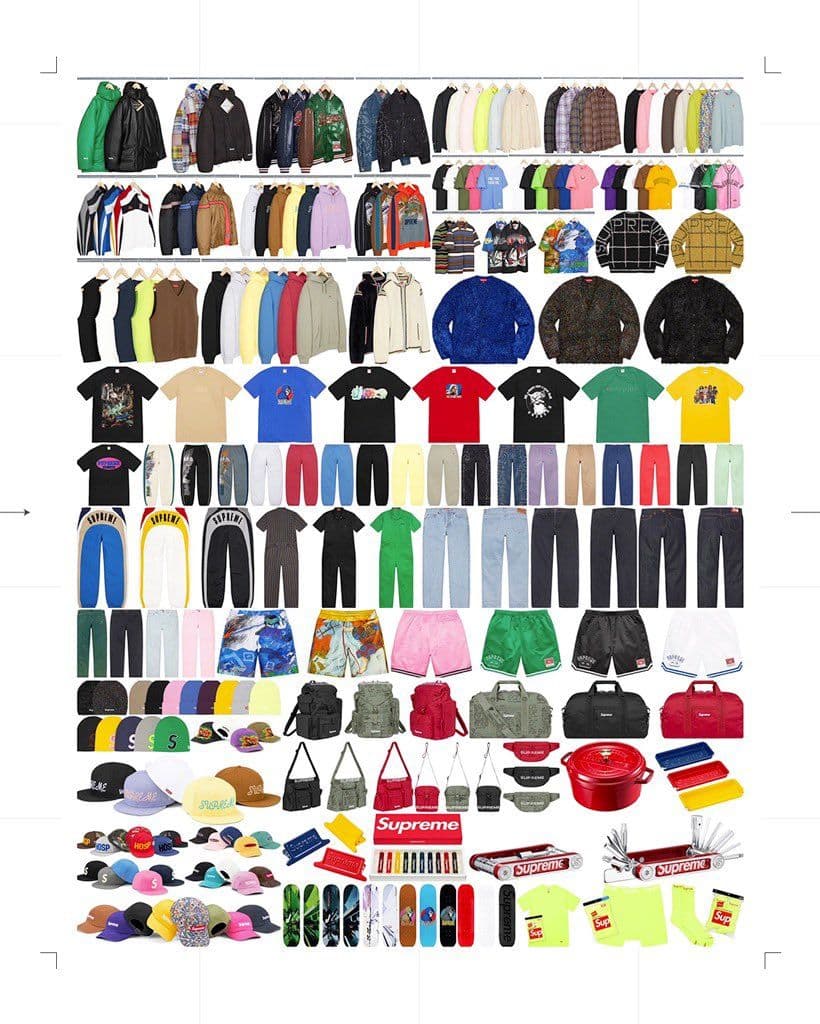 Supreme releases every Thursday at 10:00 AM (America/Chicago)*
Since Supreme just recently moved to Shopify we don't expect everything to go smooth, we will need to see what changes need to be made if any. Especially when dealing with variants (aka colors)
The keywords and colors we provide are not definitive meaning they can be incorrect, please use your own judgement!
Always have a backup window to try manually, the first week is not gauranteed. Updates to the bot will be made after we can see what changes if any have been made to the Supreme store.
JP & EU regions have a different url, so use whatever you see when you visit supreme.com
As always have a back up and manually try in a browser window.
We are only listing keywords & colors for the most hyped items.
Tonal Box Logo Tee
Colors: Khaki, Purple, Navy, Black, Blue, Red, White, Yellow
Kurt Cobain Tee
Colors: Red, Olive, Black, Grey, Blue, White
Watercolor Tee
Colors: Black, Green, Olive, Peach, White, Yellow
Reaper Tee
Colors: Royal, Green, Grey, Black, Khaki, White
T-Rex Tee
Colors: Black, Brown, Green, Purple, White, Yellow
Smoke Tee
Colors: Black, Grey, Olive, White, Blue, Purple, Yellow
New York Tee
Colors: Black, Cardinal, Grey, Blue, Olive, Pink, White
Location Tee
Colors: Pine, Grey, Pink. White, Navy, Black, Brown
Children Tee
Colors: Yellow, Brown, Black, Cardinal, Blue, White
Tonal Box Logo Skateboard
Colors: Black, White, Red
Small Box L/S Tee
Supreme®/Hanes® Tagless Tees (2 Pack)
Supreme®/Hanes® Tagless Tees (3 Pack)
Field Backpack
Supreme®/STAUB Round 5.5 Qt. Cocotte
Supreme®/Kokuyo Translucent Crayons (Pack of 10)
Supreme®/Dulton Small Clips (Set of 3)
Field Duffle Bag
Supreme®/Silca Bike Tool
Madras Reversible WINDSTOPPER® Puffer Jacket
Supreme®/Dulton Tray
Field Waist Bag
Supreme®/Hanes® Boxer Briefs (4 Pack)
Shibori Loose Fit Jean
Supreme®/Hanes® Boxer Briefs (2 Pack)
Supreme®/Hanes® Crew Socks (4 Pack)
Field Side Bag
Sketch Embroidered S/S Top
Field Messenger Bag
Overdyed Beanie
Shibori Denim Trucker Jacket
Small Box Hooded Sweatshirt
Supreme®/Hanes® Crew Socks (4 Pack)
Supreme®/Spitfire® Shop Wheels (Set of 4)
Supreme®/Mitchell & Ness® Satin Baseball Jersey
One Two Fuck You Pin
Forms Skateboard
Supreme®/Mitchell & Ness® Satin Basketball Short
Suede Camp Cap
Ronin Silk S/S Shirt
Washed Chino Twill Camp Cap
Supreme®/Ebbets® S Logo Fitted 6-Panel
Small Box Shirt
Small Box Sweatpant
Supreme®/Independent® Truck
Script Hooded Sweatshirt
Reaper Skateboard
Regular Jean
Stone Washed Slim Jean
Rigid Slim Jean
New Era® S Logo Beanie
S/S Coverall
Ronin Silk Short
One Two Fuck You S/S Top
Supreme®/Mitchell & Ness® Sequin Varsity Jacket
Crochet Edge Hooded Zip Up Top
GORE-TEX Leather 700-Fill Down Parka
Supreme®/Umbro Track Jacket
Chino Pant
Script New Era®
Stone Washed Black Slim Jean
Sparkle Cardigan
Falcon Raglan Zip Up Hooded Sweatshirt
Falcon Sweatpant
Stripe Puffer Jacket
Multi Stripe Polo
Basket Weave Plaid Shirt
Supreme®/Umbro Track Pant
Quilt Stitch Sweater
Sparkle Beanie
Character Soccer Jersey
Oval 6-Panel
Sweatshirt Vest
Victory S/S Top
Lion of Judah 6-Panel
HOSP Mesh Back 5-Panel